Exclusive coverage underwritten by New York Life Insurance Company
ASSOCIATION GROUP TRADITIONAL TERM LIFE INSURANCE
You and your spouse/domestic partner can apply for up to $2,000,000 of coverage. Once approved, coverage can continue to age 75 if your premiums are paid on time and the AAFP group policy remains in force. No additional medical underwriting is required.
Association Group Traditional Term Life Insurance
OUR FLEXIBLE LIFE INSURANCE OPTION THAT DOESN'T REQUIRE A LONG TERM COMMITMENT
Flexible AAFP Association Rates
Your rates are based upon age, gender, and smoking status at the time of application. Rates increase in 5 year age bands.
Up to $2 Million in Benefits Available
As an AAFP Insured Member you can increase your benefit by $50,000 – without underwriting – at each of the following ages 31, 34, 37, 40, 43 and 46.
Terminal Illness Benefit
To help cope with the financial hardship of a terminal illness, you can request one advance payment equal to 50% of the in-force life insurance.
GET AN INSTANT RATE QUOTE
Use our Premium Calculator to get a good estimate of how much your rates will be*.
Speak to our Insurance Specialists at
(800) 325-8166
for guidance or additional options.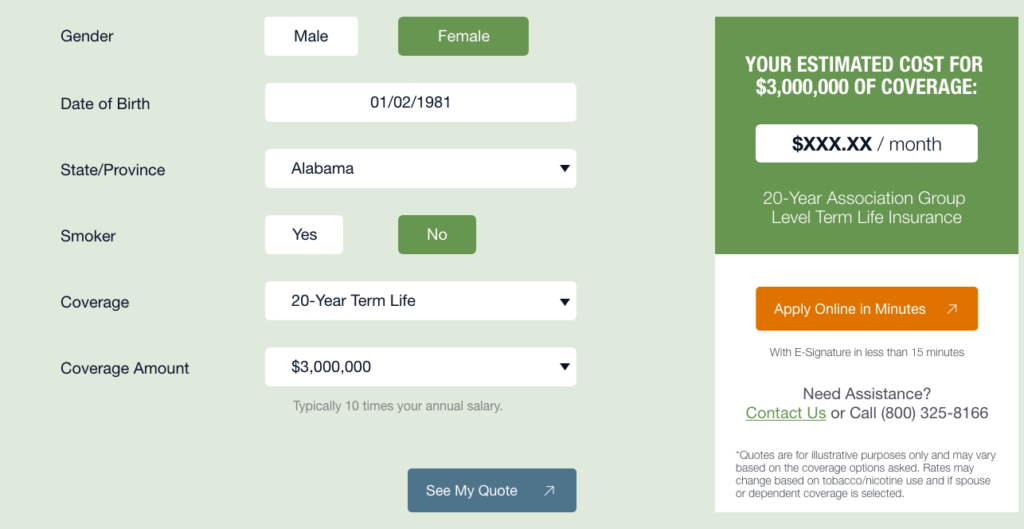 Underwritten by:
New York Life Insurance Company
51 Madison Avenue
New York, NY 10010 on Policy Form GMR-FACE/ G-7200-0. Under Group Policy Number G-7200-0

NEW YORK LIFE and the NEW YORK LIFE Box Logo are trademarks of New York Life Insurance Company.
Source: Third Party Rating Reports as of 10/18/22.
ADDITIONAL LIFE INSURANCE OPTIONS
Let's explore additional life insurance products that can help provide you with value, guarantees and flexibility for your financial future.
The AAFP Association-Group Traditional Term Life Insurance policy described is subject to the terms and conditions of Group Policy G-7200-0 issued by New York Life Insurance Company (51 Madison Avenue, New York, NY 10010) to the American Academy of Family Physicians (on Policy Form GMR G-7200-0/GMR-FACE). Please refer to the Certificate of Insurance for details of your coverage. New York Life Insurance Company (NAIC #66915) is domiciled in New York and licensed/authorized to transact business in the 50 United States, the District of Columbia, Puerto Rico and Canada.
Administered by: AAFP Insurance Program, 11400 Tomahawk Creek Parkway, Leawood, KS 66211
AR Insurance licenses #: 246260; CA Insurance licenses #: 0547642.
SMRU #: 5728217